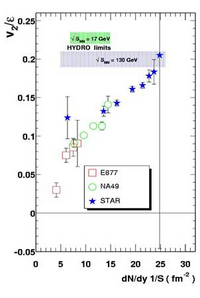 Figure. The final-state momentum anisotropy v2 (elliptic flow) divided by the spatial anisotropy of the initial overlap (participant) zone. The almond-shaped participant zone is depicted in the upper part of the figure. The horizontal axis is a relative measure of centrality — for any given experiment, the most head-on collisions correspond to the rightmost point. Hydrodynamic models predict values at RHIC given by the lower shaded band.
Limiting Hydrodynamic Behavior in Central Gold-Gold Collisions at RHIC
In nuclear collisions that are not exactly head-on, the collision process converts the initial-state spatial anisotropy into momentum anisotropy in the final state. A quantitative measure of the final momentum anisotropy (flow) offers important insights into the bulk properties of the excited phase of nuclear matter that the collision produces. Theorists argue that observation of the large flow predicted by hydrodynamic models is highly relevant to inferences about production of Quark Gluon Plasma, although this observation is insufficient on its own. Hydrodynamics represents one possible limiting case in describing nuclear collisions — the limit where the mean free path for interaction of the constituents represented by the fluid cells is very small compared with the region of nuclear overlap. The ratio of anisotropies plotted in the figure is especially useful for comparisons of data with models; in the important class of hydrodynamic model with constant sound speed, this ratio is largely independent of collision centrality.
STAR measures the momentum anisotropy v2 directly, whereas the initial spatial anisotropy is inferred indirectly from the centrality of the collision. The flow measurement in this work represents a technical advance, because of improvements in the method for removing correlations unrelated to fluid-like flow and reduced systematic uncertainties associated with this correction. Overall, we conclude that at RHIC energies, the most central collisions do indeed reach the hydrodynamic limit, unlike the case of the other data plotted in the figure, which come from the lower energy SPS accelerator at CERN and the AGS at Brookhaven.
Related STAR papers
Elliptic flow from two- and four-particle correlations in Au + Au collisions at sqrt(snn) = 130 GeV
Phys. Rev. C 66 (2002) 034904
e-Print Archives (nucl-ex/0206001): Abstract | PS | PDF
Journal article: Phys. Rev. C server

Identified Particle Elliptic Flow in Au+Au Collisions at sqrt(snn) = 130 GeV
Phys. Rev. Lett. 87 (2001) 182301
e-Print Archives (nucl-ex/0107003): Abstract | PS | PDF
Journal article: Phys. Rev. Lett. server

Elliptic Flow in Au+Au Collisions at sqrt(snn) = 130 GeV
Phys. Rev. Lett. 86 (2001) 402
e-Print Archives (nucl-ex/0009011): Abstract | PS | PDF
Journal article: Phys. Rev. Lett. server