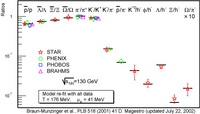 Figure. The mid-rapidity particle ratios measured in Au-Au collisions at sqrt(s)=130 GeV compared to those calculated from a statistical model using a freeze-out temperature of 176 MeV and a chemical potential of 41 MeV.
Statistical models can be used to predict particle ratios
By studying the various ratios of particles created in heavy ion collisions we can learn about the chemical properties of the source. If particles are created in a thermally equilibrated medium the hadronic ratios can be predicted via the use of conservation laws with the only necessary free parameters being the chemical temperature and the baryochemical potential. For central Au-Au sqrt(s)=130 GeV collisions data these statistical models appear to reproduce all STAR measured particle ratios. Statistical models do not try to explain particle production from basic principles but have an underlying assumption that all species are produced from a source that is in thermal equilibrium. These models calculate a chemical freeze-out temperature of the emitting source, Tch, that is very close to that calculated for the phase transition value from hadrons to partons via QCD. As we perform this calculation using hadrons we can only extract a temperature equal to, or smaller than, this value. If the temperature were hotter the hadrons would "dissolve" and they would not be around for us to measure. Hence the source, as calculated from this model, must have been at least 170MeV. While the ability to reproduce the mixed particle ratio from statistical models is not a proof that the emitting source is in thermal equilibrium it is further evidence that such a state, which is one of the necessary conditions for creation of a Quark-Gluon Plasma, has been created.
Related STAR papers
Mid-rapidity Lambda and Lambda bar Production in Au + Au Collisions at sqrt(snn) = 130 GeV
Phys. Rev. Lett. 89 (2002) 092301
e-Print Archives (nucl-ex/0203016): Abstract | PS | PDF
Journal article: Phys. Rev. Lett. server

Strange anti-particle to particle ratios at mid-rapidity in sqrt(snn) = 130 GeV Au + Au collisions
Phys. Lett. B 567 (2003) 167
e-Print Archives (nucl-ex/0211024): Abstract | PS | PDF
Journal article: Phys. Lett. B server

Midrapidity Antiproton-to-Proton Ratio from Au+Au sqrt(snn) = 130 GeV
Phys. Rev. Lett. 86 (2001) 4778
e-Print Archives (nucl-ex/0104022): Abstract | PS | PDF
Journal article: Phys. Rev. Lett. server

Measurement of inclusive antiprotons from Au+Au collisions at sqrt(snn) = 130 GeV
Phys. Rev. Lett. 87 (2001) 262302
e-Print Archives (nucl-ex/0110009): Abstract | PS | PDF
Journal article: Phys. Rev. Lett. server

K*(892)0 Production in Relativistic Heavy Ion Collisions at sqrt(snn) = 130 GeV
Phys. Rev. C 66 (2002) 061901(R)
e-Print Archives (nucl-ex/0205015): Abstract | PS | PDF
Journal article: Phys. Rev. C server

Kaon Production and Kaon to Pion Ratio in Au + Au Collisions at sqrt(snn) = 130 GeV
Phys. Lett. B 595 (2004) 143
e-Print Archives (nucl-ex/0206008): Abstract | PS | PDF
Journal article: Phys. Lett. B server