STAR Beam-Beam Counter (BBC) Small Hexagonal Scintillators
The BBC scintillators were cut from 1-cm thick Kuraray SCSN-81 by Fred Pompei. Regular hexagonal tiles were defined by cutting 2-mm wide and 5-mm deep optical isolation grooves in a Mercedes pattern from both sides of the scintillator, and then back filling these grooves with MgO2 -loaded epoxy. Since grooves were cut on both sides, the optical isolation was complete. After machining, the sides of the hexagons were covered with white reflecting paint to trap scintillation light within each tile. Each scintillator surface was then covered with 1-mil thick aluminized mylar, taped to the painted scintillator edges. The reflectors were then covered by 10-mil thick black construction paper and black electrician's tape, to make the assembly light tight.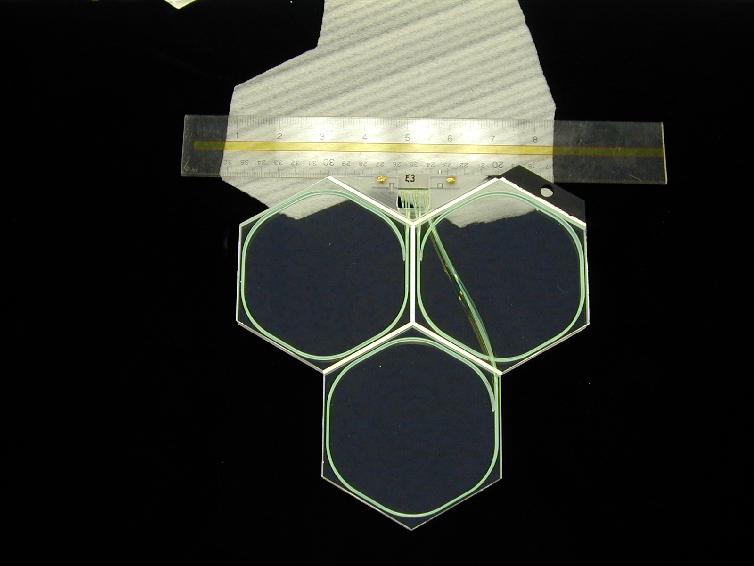 Other features of interest are:
scintillation light produced within a tile was collected by four 0.83-mm diameter Y-11 doped optical fibers, inserted into grooves machined within the depth of the scintillator from both surfaces. The ends of the fibers are aluminized. The grooves ramp down from the scintillator surface and have fiber guides cut to trap the optical fibers. The fibers form a nearly circular loop, within a distance of 2-mm from the isolation grooves limited by the 3-cm minimum bend radius of the fiber, to ensure response uniformity independent of where an ionizing particle penetrates the tile.
a tab with a circular hole is optically isolated from the upper right tile and is used for mechanically mounting the scintillator triplet to the support frame. This tab is painted black.
an optical connector is attached to a landing machined into the scintillator, optically isolated from the tiles. Twelve WLS fibers are glued into this two-part connector. The second connector part (not shown) has twelve clear fibers glued into it and is mated to the first by screws.
Last Update: 6 April 2002
LCB