Top row of plots: track reco efficiency, bottom row: charge reco efficieny.
3 columns of plots: zVertex=-30 cm, 0, +30 cm.
Z scale range set to [0.45,1.0]
Note, electrons were thrown for eta up to 3.0 in all cases.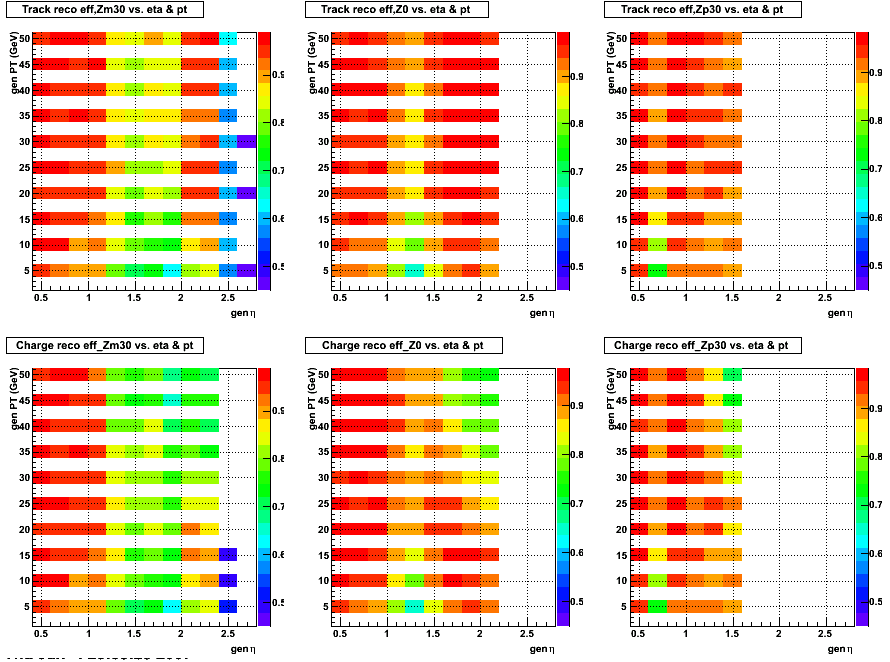 Table 1. Numerical values for charge reco efficiency using: TPC+FST+FGT+vertex.
The 3 vertex locations are denoted as z1,z2,z3 meaning (-30 cm, 0, +30 cm).
eta
Pt=5
Pt=10
Pt=15
Pt=20
Pt=25
Pt=30
Pt=35
Pt=40
Pt=45
Pt=50
0.50
z1: 0.95
z2: 0.93
z3: 0.94
z1: 0.98
z2: 0.97
z3: 0.95
z1: 0.97
z2: 0.96
z3: 0.97
z1: 0.94
z2: 0.96
z3: 0.97
z1: 0.98
z2: 0.97
z3: 0.98
z1: 0.96
z2: 0.95
z3: 0.98
z1: 0.96
z2: 0.97
z3: 0.98
z1: 0.99
z2: 0.98
z3: 0.95
z1: 0.97
z2: 0.97
z3: 0.98
z1: 0.96
z2: 0.96
z3: 0.97
0.70
z1: 0.92
z2: 0.92
z3: 0.74
z1: 0.97
z2: 0.93
z3: 0.80
z1: 0.94
z2: 0.97
z3: 0.87
z1: 0.96
z2: 0.95
z3: 0.90
z1: 0.97
z2: 0.95
z3: 0.90
z1: 0.95
z2: 0.96
z3: 0.91
z1: 0.96
z2: 0.96
z3: 0.89
z1: 0.96
z2: 0.97
z3: 0.90
z1: 0.98
z2: 0.97
z3: 0.93
z1: 0.98
z2: 0.98
z3: 0.91
0.90
z1: 0.90
z2: 0.90
z3: 0.93
z1: 0.90
z2: 0.93
z3: 0.94
z1: 0.94
z2: 0.94
z3: 0.95
z1: 0.95
z2: 0.96
z3: 0.97
z1: 0.96
z2: 0.97
z3: 0.97
z1: 0.95
z2: 0.94
z3: 0.96
z1: 0.97
z2: 0.97
z3: 0.98
z1: 0.96
z2: 0.97
z3: 0.98
z1: 0.94
z2: 0.96
z3: 0.98
z1: 0.97
z2: 0.95
z3: 0.98
1.10
z1: 0.91
z2: 0.82
z3: 0.92
z1: 0.92
z2: 0.85
z3: 0.92
z1: 0.92
z2: 0.89
z3: 0.94
z1: 0.94
z2: 0.89
z3: 0.92
z1: 0.95
z2: 0.91
z3: 0.91
z1: 0.94
z2: 0.91
z3: 0.94
z1: 0.96
z2: 0.92
z3: 0.94
z1: 0.94
z2: 0.93
z3: 0.93
z1: 0.96
z2: 0.93
z3: 0.94
z1: 0.93
z2: 0.92
z3: 0.92
1.30
z1: 0.78
z2: 0.65
z3: 0.91
z1: 0.84
z2: 0.78
z3: 0.89
z1: 0.87
z2: 0.82
z3: 0.90
z1: 0.83
z2: 0.87
z3: 0.93
z1: 0.86
z2: 0.88
z3: 0.94
z1: 0.84
z2: 0.88
z3: 0.91
z1: 0.83
z2: 0.87
z3: 0.88
z1: 0.78
z2: 0.88
z3: 0.88
z1: 0.79
z2: 0.89
z3: 0.86
z1: 0.78
z2: 0.88
z3: 0.86
1.50
z1: 0.71
z2: 0.83
z3: 0.88
z1: 0.78
z2: 0.91
z3: 0.91
z1: 0.76
z2: 0.91
z3: 0.89
z1: 0.79
z2: 0.93
z3: 0.86
z1: 0.81
z2: 0.94
z3: 0.90
z1: 0.81
z2: 0.90
z3: 0.83
z1: 0.80
z2: 0.91
z3: 0.80
z1: 0.78
z2: 0.90
z3: 0.80
z1: 0.73
z2: 0.90
z3: 0.72
z1: 0.76
z2: 0.88
z3: 0.70
1.70
z1: 0.73
z2: 0.92
z3: 0.02
z1: 0.76
z2: 0.95
z3: 0.03
z1: 0.80
z2: 0.96
z3: 0.04
z1: 0.84
z2: 0.94
z3: 0.03
z1: 0.80
z2: 0.93
z3: 0.03
z1: 0.83
z2: 0.89
z3: 0.03
z1: 0.84
z2: 0.88
z3: 0.03
z1: 0.84
z2: 0.86
z3: 0.02
z1: 0.76
z2: 0.81
z3: 0.02
z1: 0.79
z2: 0.80
z3: 0.02
1.90
z1: 0.62
z2: 0.94
z3: 0.00
z1: 0.73
z2: 0.95
z3: 0.00
z1: 0.74
z2: 0.96
z3: 0.00
z1: 0.79
z2: 0.92
z3: 0.00
z1: 0.75
z2: 0.88
z3: 0.00
z1: 0.76
z2: 0.85
z3: 0.00
z1: 0.77
z2: 0.84
z3: 0.00
z1: 0.71
z2: 0.78
z3: 0.00
z1: 0.66
z2: 0.78
z3: 0.00
z1: 0.69
z2: 0.76
z3: 0.00
2.10
z1: 0.82
z2: 0.91
z3: 0.00
z1: 0.88
z2: 0.92
z3: 0.00
z1: 0.91
z2: 0.93
z3: 0.00
z1: 0.91
z2: 0.90
z3: 0.00
z1: 0.84
z2: 0.86
z3: 0.00
z1: 0.81
z2: 0.82
z3: 0.00
z1: 0.78
z2: 0.77
z3: 0.00
z1: 0.76
z2: 0.79
z3: 0.00
z1: 0.77
z2: 0.75
z3: 0.00
z1: 0.73
z2: 0.74
z3: 0.00
2.30
z1: 0.85
z2: 0.08
z3: 0.00
z1: 0.90
z2: 0.09
z3: 0.00
z1: 0.91
z2: 0.07
z3: 0.00
z1: 0.86
z2: 0.10
z3: 0.00
z1: 0.85
z2: 0.08
z3: 0.00
z1: 0.81
z2: 0.06
z3: 0.00
z1: 0.74
z2: 0.08
z3: 0.00
z1: 0.72
z2: 0.05
z3: 0.00
z1: 0.76
z2: 0.05
z3: 0.00
z1: 0.70
z2: 0.05
z3: 0.00
2.50
z1: 0.51
z2: 0.00
z3: 0.00
z1: 0.50
z2: 0.00
z3: 0.00
z1: 0.48
z2: 0.00
z3: 0.00
z1: 0.41
z2: 0.00
z3: 0.00
z1: 0.42
z2: 0.00
z3: 0.00
z1: 0.38
z2: 0.00
z3: 0.00
z1: 0.38
z2: 0.00
z3: 0.00
z1: 0.41
z2: 0.00
z3: 0.00
z1: 0.36
z2: 0.00
z3: 0.00
z1: 0.38
z2: 0.00
z3: 0.00
2.70
z1: 0.39
z2: 0.00
z3: 0.00
z1: 0.28
z2: 0.00
z3: 0.00
z1: 0.26
z2: 0.00
z3: 0.00
z1: 0.28
z2: 0.00
z3: 0.00
z1: 0.24
z2: 0.00
z3: 0.00
z1: 0.25
z2: 0.00
z3: 0.00
z1: 0.24
z2: 0.00
z3: 0.00
z1: 0.25
z2: 0.00
z3: 0.00
z1: 0.22
z2: 0.00
z3: 0.00
z1: 0.19
z2: 0.00
z3: 0.00