Check of SMD mapping using MIPs from UxV method
Data from: 107k minB events from CuCu200, run 6049129.
pedestals 'onlped', no gains

Tuned UxV method requires only pairs of SMD strips in each plain:
* strip fired if ADC > ped+15 ( no gains needed)
* only 000000xx000000 pattern was required
* histo incremented only for the first strip from each 00xx00 pair in given plain
* all combinations of 00xx00 pairs from U & V planes are considered.

Actual X-Y position of all UxV points (after mapping correction and masking of hot strips - described below) (PS1.gz) , (PS2.gz) . View from the outside, sector numbering clock wise. Plot resolution in X & Y of 1cm.
Note, w/o gains correction ~all strips are visible with lin-Z scale!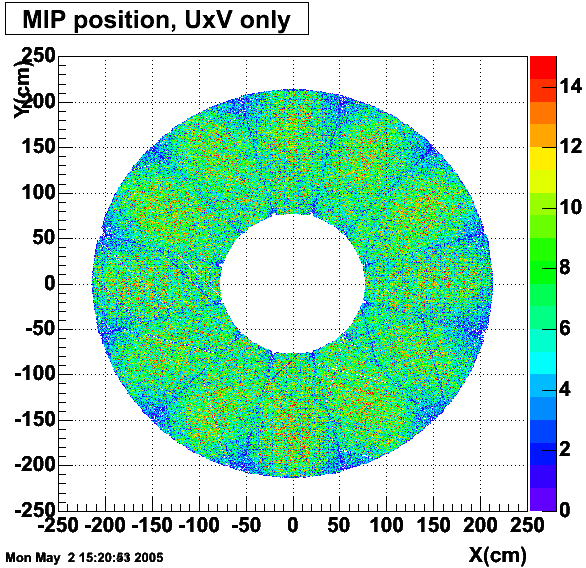 List of all masked SMD strips , as of day 49. To best of my knowledge only 16 strips of 7000 deliver no data, but this test was not accurate for ~15 strips of at the corners of each plane.
Swaps in SMD :
plane 8V has two rotated connectors: V209:216, V265:272 and one swap: V209 < -- > V280 - in that order- as pointed earlier by Bob. This needs to be changed in the DB.
the following problems I was not able to resolve: 4V47-50 (see below), 4V165-168, 10U136-138.
The up-down pattern is disturbed for the strip 4V50. The vertical lines markranges of subsequent optical connectors.


Frequency plots for all strips in 24 planes are posted as PDF. Due to the logic of histo incremention for each masked strip there will be a gap of 2 strips.
For the record the following DB mapping was used during sorting. The swaps in plane V8 was hardcoded.
---
Used script plBlue.C