!Converted with LaTeX2HTML 95.1 (Fri Jan 20 1995) by Nikos Drakos (nikos@cbl.leeds.ac.uk), CBLU, University of Leeds >
---
Next:
Electronics
Up:
System Specifications
Previous:
System Specifications
---
Last Updated: 15 June 1995 The SVT is made of 216 silicon detectors . The silicon drift detector operates in a manner analogous to gas drift detectors. Fig. 1 shows a schematic layout that illustrates the geometry and operation of semi-conductor based drift chambers.
A 4 inch, high resistivity (around 3 K

/cm) n-type Si wafer is used as a substrate. Field shaping electrodes are constituted of p-type material implanted symmetrically on both surfaces in a regular strip pattern. The pitch between cathodes in the STAR SDD prototypes is 120

m. A high voltage gradient (up to 600 V/cm) applied to these shaping electrodes fully depletes the Si thus creating a deep potential well that attracts free electrons produced by the passage of charged particles through the detector. The surface electrodes are symmetrically connected to a voltage divider network that produces an independent electrostatic field parallel to the surface of the wafer. The field transports the electrons towards the edge of the detector where signals are read out on a segmented anode (pitch = 250

m). Under suitable conditions, the electron drift velocity is constant, so that a measure of the drift time is equivalent to a measurement of the position in the drift direction. During drift, with typical speed of 1

, the initial cloud of electrons expands due to diffusion and Coulomb repulsion. The charge thus read out is shared among few anodes (2-6) over a somewhat extended time period (few 100 ns). Charge sharing techniques can then be used to determine the original position of the cloud to an accuracy better than the anode pitch. Prototypes of this technology were used in the CERN NA45 (CERES) experiment and have been found to have excellent position sensing precision and resolution (< 10 microns). This remarkable position resolution can be achieved at a small fraction of the cost associated with a pixel detector of equivalent resolution.
The SVT drift detectors are based on the above model. Prototypes are currently designed and fabricated at BNL. A bi-directional drift detector with minimized guard area ('mini guards') will be used in the final SVT design to allow operation with a maximized active area at a reduced voltage.
Table II gives the specifications and critical parameters for the Silicon Drift Detectors to be used for the SVT.


Figure: Functional diagram of generic n-type Silicon drift detector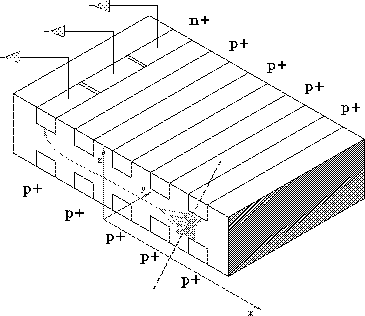 Table: SDD specification and critical parameters

---
Next:
Electronics
Up:
System Specifications
Previous:
System Specifications
---
---
Claude Andre Pruneau
Thu Oct 12 17:29:54 EDT 1995