Probability Function Adjusting
For details on the technique see here

Plotted below are plots for the distribution of the probability calculation for all pixels on Hybrids index 6-13 on the year 1 ladder. The x axis is log_10(Prob_Value) and the y axis is the cnumber of pixels with that value. The black graph is for physics run st_physics_1225009_raw*.daq and the red graphs are for pedestal run st_pedestal_1207016_raw_0001.daq. The red graphs are scaled to the equivalent number of events as the blackc plots. As the red data is for a pedestal run one expects there to be know hits. The black graphs should be a mixtrue of noise and hits. To produce these graphs the ASIC cuts were set to zero so that all the pixels pass the first set of Sequence adjusting and we can see the raw distributions. For most of these plots the data would indicate that the right place to cut would be a prob=8. However you can see that for hybrids indexed 6,13 and to some extent 10 the pedestal data maps the real data and there is no obvious position to place the cuts on this plots. Note Hybrid 11 is flagged as bad and hence there is no data for it. For this calculation an individual prob file is used based on the measured RMS of the noise for that hybrid ( see here ).

I then re-ran the pedestal run file with the ASIC cuts set to 102,2,110,0 the Prob cut set to 8 and then looked at the timebucket vs Anode distribution for the Hybrids 6,9,10 and 13. You can see from the Figure below that the odd distributions are caused by "hot" anodes.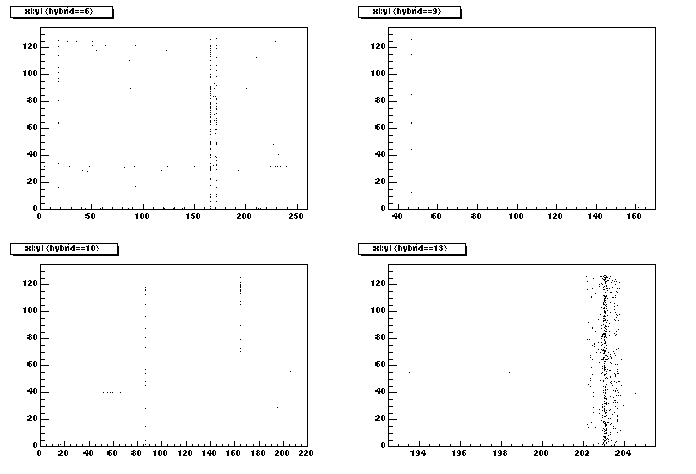 ---
Helen L. Caines Last modified: Tue Sep 26 15:25:43 EDT 2000