Run 6 EEMC Gain Calibrations - Towers and Tiles
---
Goal: Use mips from pp minbias events to set absolute gains for EEMC towers, SMD strips, and all pre- and post-shower tiles for the 2006 run:
analyze 1.8M pp minbias events from day 89 - runs 7089008, 7089013, 7089014, 7089015, 7089021, 7089022, 7089024, 7089025, 7089091, 7090008
fit slopes of ungated SMD histograms: 3-4% statistical error in slopes -> sets strip-to-strip relative gains to ~6% accuracy
mask out dead or "problem" strips
for SMD 1st pass: estimate absolute SMD gains by global matching to last year -> need ~10% increase in conversion factor from 2005 Cu-Cu to 2006 pp minbias
identify mips event-by-event via 000xx000 or 000x000 hit signature in both planes -> "mip ID"
fit Gaussian (Landau) function to towers (pre/post tiles) gated by mip ID, use known geometry / energy loss to set absolute gains
for SMD 2nd pass: sum ranges of consecutive SMD strips gated by mip ID to set absolute gains, check for eta dependence, compare to 2005 results
other improvements?
---
Results: Using isolated SMD hits to gate tower and tile spectra
SMD conditions:
Use absolute SMD gains determined in 1st-pass calibration
For valid hit, require ESMD > 0.4 MeV
Require at least three `no-hits' on each side of valid hit (1 or 2 strips) in each plane
Some typical performance plots - all taken from Sector 11
Absolute gains used for Sector 11 V plane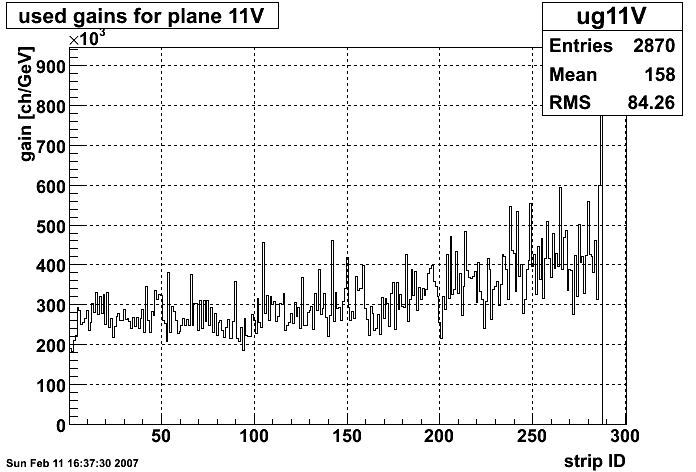 Distribution of isolated mips in each plane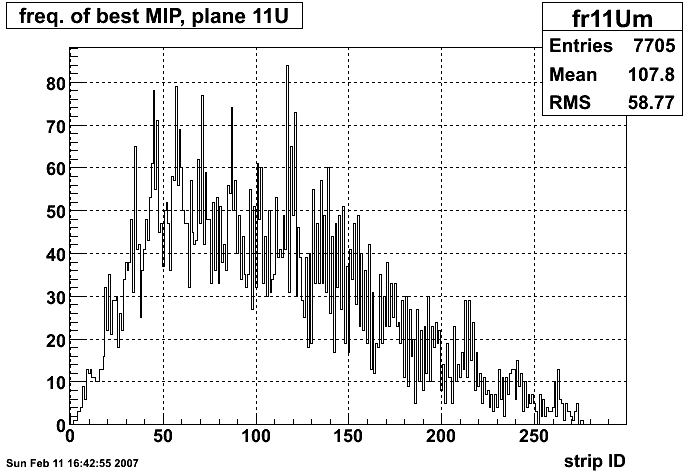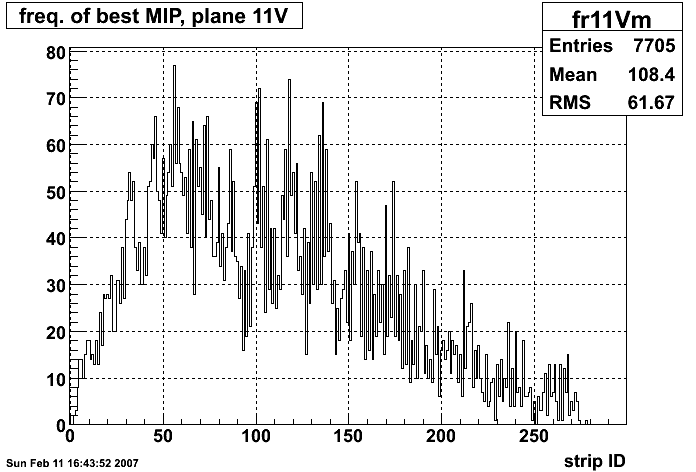 ---
Now use SMD UxV tag to gate other detectors. All plots are for Sector 11, stack C07
Comparison of ADC spectra for towers, pre-, and post-shower layers, with and without SMD tag
---
Last step: require hits in tower/tiles other than layer to be fit ("hit" -> ADC - ped > 3*sigmaped. All plots are for Sector 11, stack C07
ADC spectra for towers, pre-, and post-shower layers, with mip tag
---
Everything seems to be working in this sector!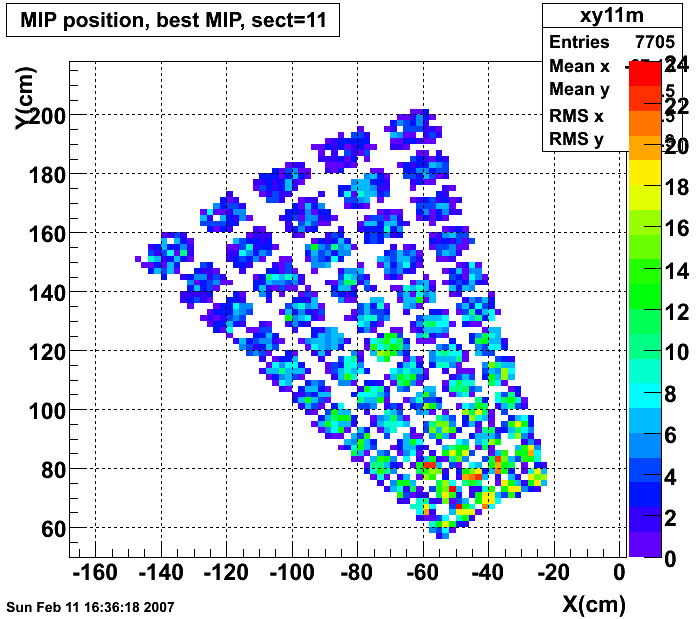 ---
Next steps:
Complete Gaussian (Landau) fits to all EEMC mip-gated towers (tiles) to set absolute gains
Use "best mip" tag to set absolute gains for SMD (2nd pass) after summing over ~10 strips
Check for consistency / systematic differences with 2005 gains (Cu-Cu minbias), especially eta dependence
Check for consistency with 2006 pp minbias data taken later in run (not sure we have statistics)
Consider improvements: taking out z-vertex variations using BBC time differences; others?