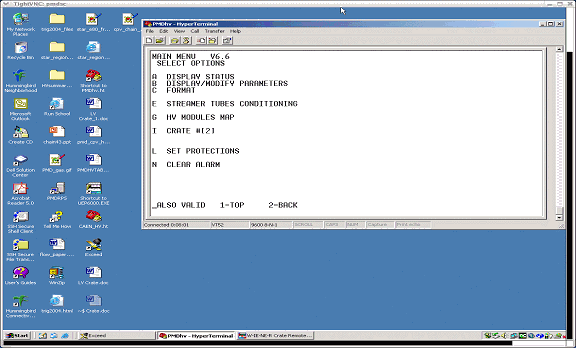 4.

This window ( Fig. 3) is the remotely displayed window from
the machine kept near PMD crate which is used for PMD slow
control to control CEAN HV SY1527 ( HV for PMD plane only,
for CPV plane see sec. B), and W-IE-NE-R crate ( LV for both
PMD and CPV planes). If Window for CAEN-HV and W-IE-
NE-R are not seen in the display, please click the shortcut on the
desktop named as "

CAEN_HV.ht

" and "

shrotcut to
5.

Parameters written in the inner wind

ow above ( Figure 3)
have the following significance :
1=Top

, this option takes you to the main menu as shown in the
Figure. Please press "

1

" whenever you want to select any other
option.

THINK TWICE BEFORE PRESSING ANY BUTTONS
as you are directly controlling the hardware here.
"A" : Display Status

i.e., click on "

a

" or "

A

" to see the display
status of different channels as shown in Fig. 4.